After leaving The W Costa Rica, I was excited to experience a different part of Liberia! This is why I booked Secrets Papagayo. I have stayed at Secrets resorts in the past so my expectations were quite high. My driver asked me if I was sure if I wanted to leave The W for Secrets I told him, "yes". I proceeded to ask why and he said that Secrets was underwhelming. I was not excepting Secrets to be on the same level as the W.
I booked the King Tropical View suite. Immediately upon entering, I could tell that the rooms were really clean! Check-in was easy. What I did not like was immediately being approached to do Timeshares. After traveling an hour from W Costa Rica to Secrets, that was the last thing that I wanted to do. During my stay, the timeshare representative kept calling the room phone. It was a bit of a nuisance.
Keep in mind, this resort is HUGE! You will need to take the shuttle from the main reception area to your room. I booked my room last minute and was stuck with the tropical view. To my surprise, it would end up being an advantage and I will tell you why. The tropical suites are located a two-minute walk from where the food and pool area is!
The Preferred Club members are located more on a steep, secluded hillside, and will require the shuttle. I would find that inconvenient because the shuttles can take some time to pick you up. I do not think I would like to rely on a shuttle to get to breakfast, lunch, and dinner. This resort is on a hill, so be prepared to walk up inclines! As I have mentioned before, I was located close to where everything was so I did not have any issues walking.
Things I did like:
-Breakfast. Very good, no complaints.
-Pool. the pool area was very clean and it was a lot of cabanas that were available for everyone!
– Tour companies. This is where I found my favorite tour guide of all time, Rolando!
– Landscape. I thought the resort was very charming and tropical.
-Wifi. No connectivity issues at all!
-Shuttle. It was easy to get a shuttle when I did need to leave for my COVID test and to get to the main check-in area.
Things I did not like:
-Food. It was very bland. The breakfast was the best. I posted a picture of the quesadillas and they were very bland.
-Covid testing. Although the website says that it is covered with any stay, the staff told me that I had to pay…It was USD 43 and I felt like they were trying to nickel and dime me. I found that to be very deceptive. A few other guests weren't so happy about that at all.
-Rooms can be upgraded (especially for the price you pay)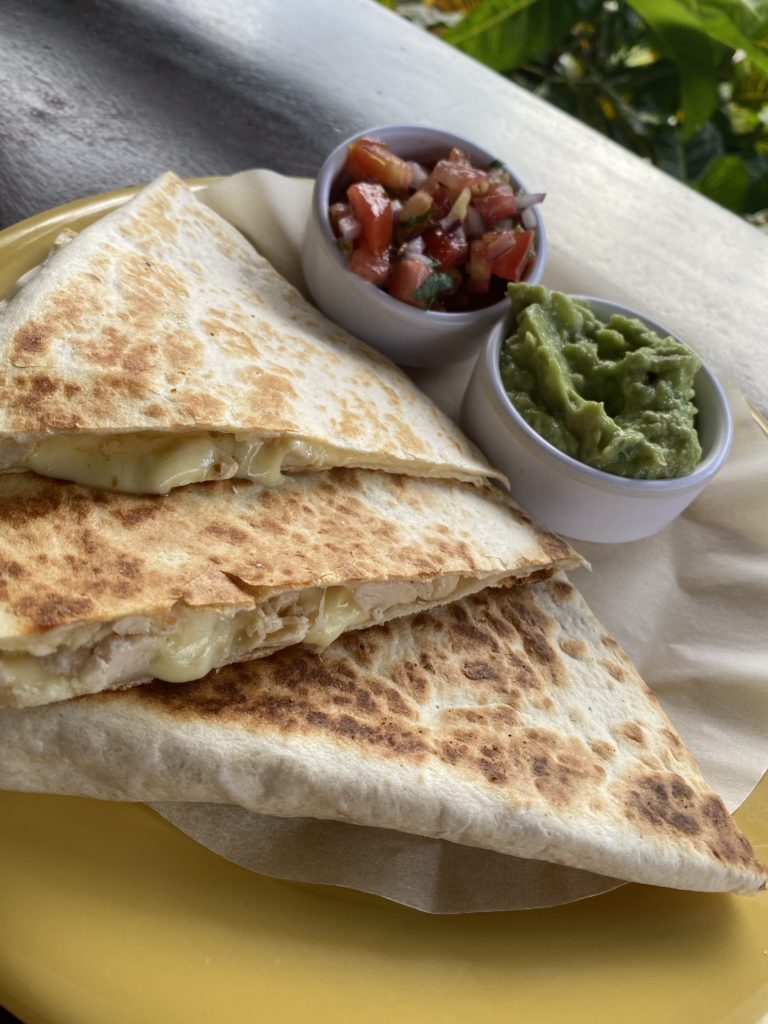 I was HIGHLY DISAPPOINTED with the beach. I felt like I was completely ripped off! The pictures online on the Secrets Papagayo website did not look like this! Everyone just sat by the pool…Apparently, due to active volcanos, some of the ash residues end up on the shore, which ends up in the sand. It did not look appealing WHATSOEVER. Some of the guests were intrigued by this, but after coming from The W, I was not.
I would also like to mention, the tropical King room was VERY conveniently located! It was literally a three-minute walk away from the main food and entertainment area! I saw other people who were complaining about having to take a shuttle everywhere because they were staying in the Preferred member's area.
I took my COVID-19 test and did not get my results. The day I was checking out, I had to call around and find a way to get a copy of my results! It was extremely nerve-wracking and stressful. I thought that was very unprofessional. I have stayed at a few Secrets resorts in the past and this one was very disappointing. This was the worst Secrets I have ever stayed at. The food was bad (overall) and I did not like how pushy the staff was (in regards to the timeshares). I would just spend the extra money and stay at the W hotel.