Chicago, Illinois is a bunch of fun! Recently, I went for a weekend. It has been a few years since I last visited Chicago. I went solo and had a blast! I stayed:
Keep in mind, that this hotel is currently under construction. Upon arrival, I was not sure I was even at the right hotel as there is no sign indicating that this is the Chicago Hotel. I got out of my Uber and saw the door and it matched the address. I arrived around 9:00 pm at night. I noticed that this hotel does have a self-check-in. I was informed at check-in that I may hear noise around 8:00 am (yikes). Luckily, I had planned on waking up at 6:00 am so I was not too concerned. Incidentals were $100 per night and the resort fee was $60USD/night. I was a bit displeased with the resort fee as it is quite high for a standard hotel. This hotel has a 24/7 gym and complimentary beverages. I was given a bag that contained two water and two soft drinks.
My room was clean and quite spacious! The air and water worked just fine. The bed was also comfy! I booked this hotel last minute. Check-out is at 11:00 am. However, their lobby is quite large and has tons of space to work! The wifi was excellent. My favorite part about this hotel was definitely the location! It is a prime and ideal location, especially if you plan on doing some walking down the magnificent mile!
Places I went during my visit
Starbucks
I can confirm that it is worth the hype and wait! Roughly three blocks away from The Chicago Hotel. I am an avid Starbucks fan so going to the Reserve was a must on my list! I was already aware of how crowded it gets by researching it beforehand. I woke up at 6:00 am and left out around 8:00am. By then, I presumed it would be a line. As I was walking out, I noticed that it was raining heavily! It was no line outside but a line indoors (which moved quite fast). I managed to order and stand at one of the high top tables. The coffee tasted so good. In fact, I ordered another one to-go! Keep in mind the menu is quite different as this is the Reserve location.
Museum of Ice Cream
This was so much fun! Whether you are an adult, teen, or a child this place is worth visiting! I paid $54 (including fees) for admission. When you enter, you are given a DOVE ice cream bar. As you go through each room, you will be prompted with new ice cream to try! To my surprise, this tour was quite informative! I learned a lot about ice cream. I did enjoy this tour because it was solo friendly. I was able to go at my own pace without a guide! I recommend getting tickets to ensure you can go as this place gets quite busy. I was in the first group at 9:30 am and it was about 15 of us!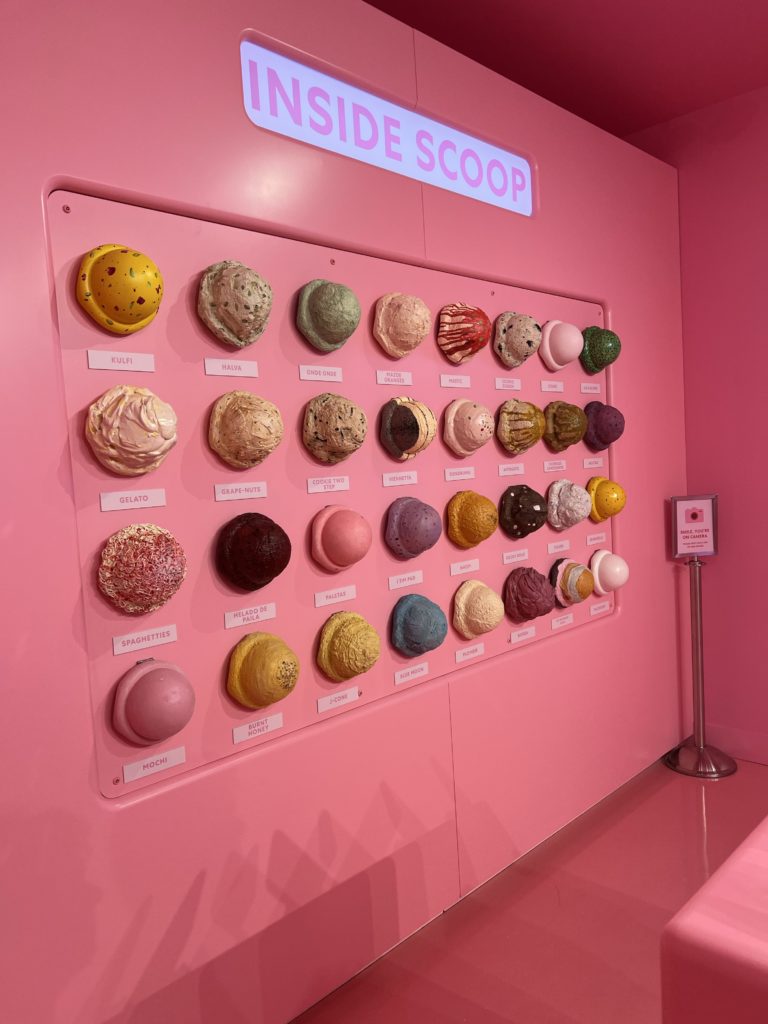 Giordano Pizza
This pizza lived up to the hype! I was too full to try the other competitors. This location was only two streets away from my hotel. I ordered the personal pizza ($17 with taxes). It was very good!
Joe and The Juice
This place was my lifesaver! I went every morning and had great experiences each time. My beverages were fresh and made to order! In fact, one day I went twice! I went to Joe's every morning I was in Chicago. It was very light and fulfilling.
Al's Italian Beef
As seen on Diners, Drive-ins, and Dives, this place lives up to the hype! I went on a Thursday afternoon and it was no wait. I got the regular Italian beef and it was quite large!
I consider myself a foodie and even the regular size was quite a lot for me. I could barely finish it ($13USD)!
Jeni's Ice Cream
I am a big fan of Jeni's ice cream! This was my first time going to a physical location. Typically, I purchase it inside of grocery stores! When I stumbled across it, I knew I had to go! I paid $7 (including tip) for this treat!
Stan's Donuts
I got a maple long john and it was really good! Roughly 3$.
Here are some tips if you plan on visiting
Do not wear flashy things. I stayed on the North Side and I felt safe the entire time. Regardless, it is best to blend in and dress practically.
Prepare a list of things you want to do to ensure that it gets done! Time flies on trips!
Take a bunch of pics and have FUN!
This concludes my trip to Chicago! If you are contemplating on going, do it!